Bachelor's Degree in Law


Location
Initial training
Continuing training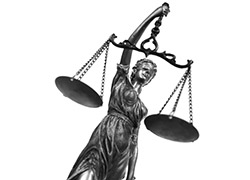 Are you interested in the field of major legal disciplines?
Then the bachelor's degree in Law is for you. Thanks to this course you will acquire skills in the following areas:
Disciplines (fundamental concepts of law, legal analysis situate the law of persons and that of companies, identify in a document the methods of legal settlement of conflicts etc.).
Pre-professional (situate one's place and mission within an organization in order to adapt and take initiatives, identify the process of production, diffusion and valorisation of knowledge, work in a team as well as independently etc.).
Transversal and linguistic (using digital reference tools and computer security rules, developing argumentation with a critical mindset), analysing and synthesising data with the aim to apply them, making easy use of written and oral comprehension and expression in at least one foreign language etc.).
The bachelor's degree in Law is the essential passport to choosing a Master's degree specialisation and then exercising a judicial profession in the field of private or public law. the bachelor's degree as such also remains a diploma that is appreciated for positions in banking, insurance and real estate sectors.
About this program
A few words from the directors
Because of the general education it provides to students in the major legal disciplines, the Bachelor's Degree in Law is the essential passport to choosing a master's degree specialisation and then exercising a legal profession in the field of private or public law. It ends with a one-month internship which allows students to familiarise themselves with the professional world. In addition, it represents a solid initial background for a possible complementary non-legal study course (IEP, business or journalism schools). For the student wishing to join the professional world, the bachelor's degree as such also remains a diploma that is appreciated for positions in banking, insurance and real estate sectors.

Director bachelor's degree 1

Director bachelor's degree 2

Director bachelor's degree 3

Director of studies
Registration
Your profile
You have a Bac, Bac+1, Bac+2 (or equivalent)
Tuition fees :
University fees