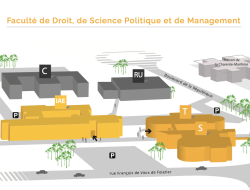 The Faculty of Law, Political Science and Management is located in the Minimes district on the La Rochelle university campus, at 45 rue de Vaux de Foletier in La Rochelle.
How to get there:
By car
Take the "Les Minimes" direction, the campus is located between the train station and the marina.
By plane and bus
La Rochelle-Laleu Airport
From the airport, take bus line 7 first, then the "Place de Verdun" correspondence on line ILLICO B, stop at "Maison de la Charente-Maritime" and cross the road.
By train and bus
La Rochelle Train Station
From Paris (Montparnasse): 3 hours
From Bordeaux: 2 hours
From the train station, take bus line ILLICO B Lagord - Bongraine
Map