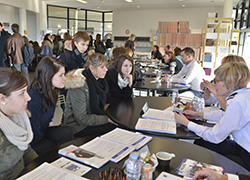 Within La Rochelle University, the Faculty of Law, Political Science and Management develops relationships with many privileged partners, within the context of co-accredited training courses or scientific prizes.
Privileged Partners
Zoom on the Rochelaise Law Society

The

Rochelaise Law Society

(SRD) is a "law 1901" association. Its aim is to promote law in the area of La Rochelle by becoming a forum where dialogue and action can take place between academics, students and professionals.
>

Zoom on the Francophone Digital Legal University

Its main mission is to meet the needs of the correspondence training course in the legal field by proposing a complete and diversified program.

The UNJF has thus the vocation to become the reference resource center for universities, faculties and training and teaching centers that wish to offer Open and Distance Learning in the legal disciplines.
Decide! The platform for future students to discover legal studies

DECID

Classes, advice, forums... To prepare your entrance into law school, connect to the DECID platform !

Logins available from your faculty tuition department.
Events related to the professional world and student education