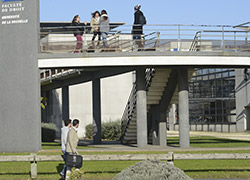 The Faculty of Law, Political Science and Management of La Rochelle University is structured in two departments: the department of Law and Political Science, and the department of Management named IAE La Rochelle.
Two complementary departments
Law and Political Science
This department offers a wide range of courses in it's fields and includes two centers for preparing for professional competitions and examinations and two research laboratories.
Center of preparation for vocational exams and competitions :
[Preparation for entrance examinations related to the legal and administrative professions-
>formation16]
Research Laboratories:
Management
Named IAE La Rochelle, this university management school is part of the IAE France network. The IAE offers a wide range of courses in management sciences.
Research laboratory :