Coming to study at the Faculty of Law of La Rochelle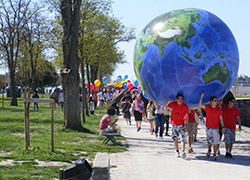 Every year, La Rochelle University welcomes hundreds of foreign students. At the heart of a vibrant city with an ideal working environment, the Faculty of Law, Political Science and Management offers a range of training courses that enable students to acquire skills and in-depth knowledge in these disciplines.
La Rochelle: an exceptional work and living environment
To study in La Rochelle is to study in a human-scale size university with 7,500 students.
La Rochelle University is located at the heart of the city in an exceptional environment near the sea. It is open to international students with more than 1100 foreign students of various nationalities from all over the world.

Available teachers
At the Faculty of Law, Political Science and Management of La Rochelle, the teaching provided is of very high quality. The faculty staff, which are very accessible and always available, are attentive to the students' needs. It is composed of experienced research professors, teachers and professionals.
Adapted teachings
The Faculty of Law provides a class taught entirely in English in the first semester of studies: « French law and institutions » .
Testimonies
from Czech Republic

Come to La Rochelle … you will never regret!
I had a great opportunity to be one of the international students at law faculty in La Rochelle. Pretty serious I can say - it was the best decision of my live to go to France. I spent one year and believe me, it was really hard to leave this place!
La Rochelle is an amazing city - everywhere you can feel touch of history and it has its magic more over surrounded by the ocean and islands it is perfect place where to spend holidays. That year gave me a lot - I improved my English (during great lessons at the faculty - Legal English with Yves Badiou - highly recommended), French and all legal knowledge … and I have friends around the world now. People at the faculty are so kind and they were ready to help us with everything!
La Rochelle is the perfect place where to spend your Erasmus time - because it has everything. So GO! DO IT! You will not regret!

Michala Chadimová

from Belgium

I've been studying in La Rochelle for the past two months and I must say it's really nice! La Rochelle is a beautiful little town that has everything to appeal to students. There are lots of places to go out, and everyone is very nice. Moreover we have a very nice view of the sea from the law school, enjoyable in October with the good weather! Although French classes are not always easy, most of the teachers try to help us as much as they can. I already know that I will miss La Rochelle when I go home.

Nathalie