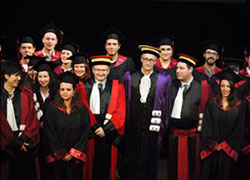 The« EUCLIDE » PhD» school allows students to prepare a thesis in one of the major disciplines of Law and Political Science.
PhD contracts
The « EUCLIDE » PhD School regularly offers PhD contracts for the preparation of a thesis to students holding a Master's degree.
Find out more about the doctoral contracts of the University of La Rochelle on the La Rochelle University website.
At the end of the PhD course, the PhD constitutes a real professional research experience.
The thesis
In our laboratories
It takes three years to prepare. The logical continuation of a master's degree, it is approved after the defence of a thesis, by the rank of doctor, which is a final stage of higher education and corresponds to a level of bac + 8 years of study.
The conditions of admission
To apply for a PhD at La Rochelle University, the candidate must hold a national master's degree, another degree granting the master's degree, and more generally have followed a training course in which he or she has demonstrated his or her aptitude for research. In addition, registration requires the agreement of a thesis director, the director of the Laboratory, the director of the PhD program and the director of the PhD school.